Electrochemical Characterization
Surface Potential Measurements
Electrophysiology
Scanning Probe Lithography
Insulated cantilevers enable the investigation of nanoscale properties of electroactive materials in-situ.
Performing electrical measurements in liquids is impractical as the entire chip acts as an electrically active area. Insulated cantilevers are electrically insulated with only the very apex of the conductive, platinum tip exposed. A flexible handle attached to the probe provides a reliable electrical contact with conformal insulation that surrounds both the connector and the chip. Manipulating the chip is simple and compatible with multiple instruments.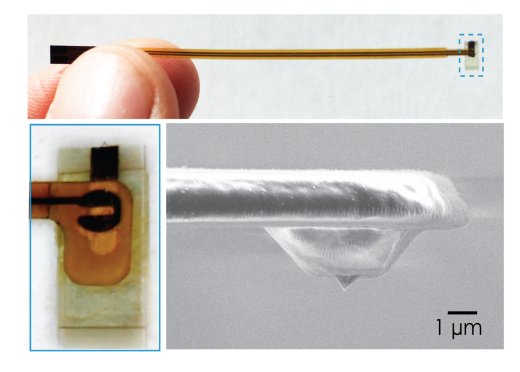 Insulated cantilevers provide superior electrical performance in liquids, allowing users to perform various types of measurements including scanning electrochemical microscopy, conductive microscopy, and other electrical force microscopy techniques.
Get premium access to our newest products and exclusive discounts.